Art Crawl Flyer Update: We Have Switched Over to Digital Email Flyers. If You Would Like To Receive Upcoming Art Crawl Flyers, Please Email our Mailing List Coordinator Connie Pelzek at cpelzek@wi.rr.com With EMAIL FLYER In The Subject Line. Thank You!!
The Waukesha Art Crawl is presented by Waukesha West End Artists, UA, and Jeff Seymour of SEEMOREART.CO. Our Media Sponsor is the Waukesha Freeman – Waukesha County's Daily Newspaper. Special THANKS to Lynn & Jerry Gaffey & The Almont Gallery, Marli Connell, Bob Fesser, Connie Pelzek, ExactaGraphics, Jenn Dekorah Lee & everyone that helps out with the art crawl!
****CLICK HERE FOR THE WAUKESHA ART CRAWL SIGN UP FORM****
ART CRAWL #97! SAT * August 5th, 2017. 4pm – 10pm
Here is our past #96 flyer! #97 will be posted as soon as it's available!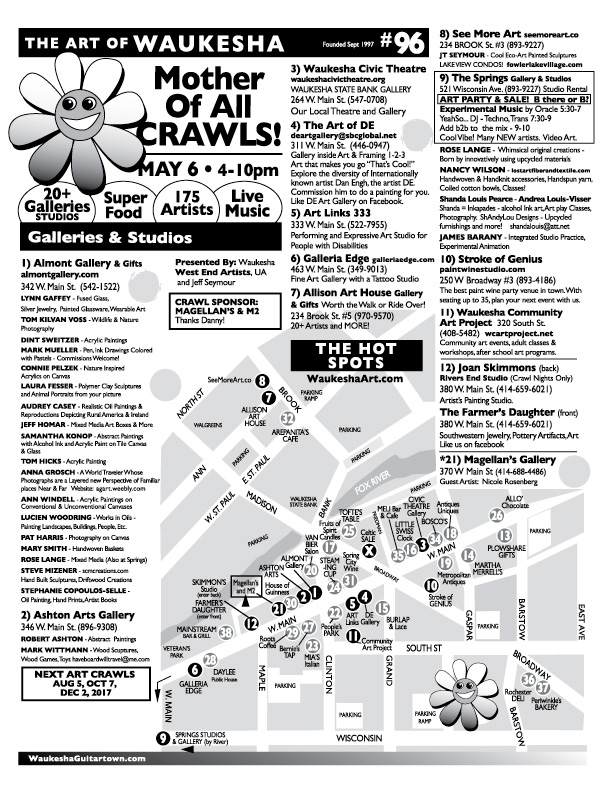 Waukesha Art Crawl Video by Bob Fesser. (2016)

loveartcrawl from Bob Fesser on Vimeo.
#94 Holiday Art Crawl. (photos: Bob Fesser, J. Lee. music: Esther Jeon Borth.)

#92 Waukesha Art Crawl. (photos: J. Lee.)

#91 Waukesha Art Crawl. (photos: Jeannette Fellows.)

#89 Holiday Art Crawl. (photos: Jeanette Fellows, Bob Fesser.)

#84 Waukesha Art Crawl. (photos: Bob Fesser.)

2017 Upcoming Art Crawl Dates
SAT. August 5th, 2017. 4pm-10pm
SAT. October 7th, 2017. 4pm-10pm
SAT. December 2nd, 2017. 4pm-10pm